Nov 2 and Nov 3, 2021
We are still in the pandemic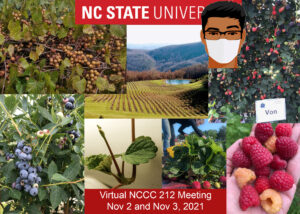 Welcome to the virtual NCCC 212 meeting of 2021. The meeting will be held November 2 and November 3, 2021, using Zoom!
Organizing committee: Kyle Freedman, Emma Volk, Mark Hoffmann
Gina Fernandez, Hamid Ashrafi
Registration Link:
Please register in advance using this registration link:
https://www.eventbrite.com/e/nccc-212-2021-registration-169150671211
We will distribute zoom links and calendar invites to the different sessions only to registered individuals. There are no registration costs. 
Tentative Agenda:
 Nov 2, 2021:
10:00AM – 1:30PM EST: Introductions and state reports

 1:30PM – 2:00PM EST: Lunch break 

2:00PM – 4:00PM EST: NCCC 212: NCCC 212

Business meeting
4:00PM – 5:30PM EST: SCRI PIP CAP Kick-Off Meeting (The PIP-CAP, lead by NCSU, will present itself to the world :))
7:00PM: Potential Social Hour
 Nov 3, 2021:
10:00AM – 12:00PM EST: Second Day of state reports

1:00PM – 3:00PM EST:

Germplasm Committee Meeting

3:00PM – 4:00PM EST:

Virtual farm and facility tours

3:00PM – 5:00PM EST:

Place holder for potential outbreak group

5:00PM – 6:30PM EST:

Graduate student program
Report Template:
There are some important changes to last year:
The NCCC-212 has now four objectives: Please look at the NIMMS project home page for more information
Please download this NEW State Report Template (word document) to develop your state report.
Reports are due Oct 27, 2021. Please send them to kafreedm@ncsu.edu (Kyle Freedman) AND mark.hoffmann@ncsu.edu (Mark Hoffmann).