What is North Carolina wine? North Carolinas' constantly growing and highly diverse wine industry in the spotlight
An interview with Mark Friszolowski (Head winemaker at Childress Vineyards) and Patricia Friszolowski (Secretary of the NC Winegrowers Association).
Amanda Lay (M.S. Student), Small Fruits Research and Extension Group, Department of Horticultural Science, NC State University
Mark Hoffmann, Small Fruits Extension Specialist, Department of Horticultural Science, NC State University
North Carolina was an early leader in the American wine industry before prohibition. There are strong indications that native Americans already have enjoyed the fruit and possibly the fermented juice of native muscadines. Early settlers have repeatedly pointed to the abundance and taste of native grapes. For example, Sir Walter Raleigh has pinpointed muscadines grapes on one of the early maps of what he thought was the Virginia coastline. The early North Carolina wine industry was based on muscadine grapes and was the at times the largest in the whole nation. First large-scale commercial wineries were established in Halifax Co. in 1835 and many other followed, including the famous Duplin winery in Rose Hill NC. However, the thriving industry was greatly disrupted by Prohibition in the 1920s, and is growing back ever since. Today, North Carolina has evolved as one of the most diverse grape growing and wine making regions in the US. 
Today, this diversity is represented by 186 wineries and more than 500 vineyards across the state. The largest winery at the entire East Coast, Duplin Vineyards, producing estimated 400,000 to 500,000 cases of muscadine wine every year. Muscadine wineries can be found in the Eastern part and the Southern Piedmont of North Carolina. The European style wine grape industry has its center in the Yadkin Valley and further West in the Mountains. Biltmore Estates in Asheville produces more than 300,000 cases of wine every year, based on solely European-style wine grapes. Across the state individually owned grape vineyards make up 2,300 acres of production. The NC grape and wine industry, according to recent reports, supports over 10,000 jobs and has an impact of $1.97 billion on North Carolinas economy and produces around 1,1 million cases of wine every year. North Carolina is one of the few places in the world, in which you can taste a sweet or dry muscadine wine, a dry Bordeaux, a refreshing Italian-style wine, a Riesling, or even a red Norton-wine in just a few 100 miles from each other. This diversity of wine-styles is hardly met by any other state in the US. For everyone who is interested, a yearly winery guide is available to guide you through the undiscovered and diverse wine country of North Carolina. 
Mark Friszolowski, the winemaker at Childress Vineyards, originally from New York and educated in South Africa, has seen the development of NC wine and grape industry like almost no other in the state. Patricia Friszolowski, the secretary for the NC Winegrowers Association, is organizing and leading the annual NC Winegrowers Conference, a two day conference that has grown in weight and importance over the last decade. We have interviewed them both and asked about where they see the NC grape and wine industry in NC and where the future might take it.
Q1: Can you explain our readers what is special about the grape and wine industry in North Carolina?
Patti: North Carolina is different from other states thanks to its climate. We have a longer growing season. On the other hand, late spring frost events, like we had this year, can still be a challenge for grape growers.
Mark: North Carolina isn't special in the fact that our wine industry is growing. We, like many non-traditional wine states, have a growing grape and wine industry because of the American trend of drinking more wine. That being said we are already a state with a long history of agriculture compared to many other non-traditional states. North Carolina also has a season more conducive to growing many varieties of grapes, such as muscadines, European wine grapes, and hybrid varieties.
Q2: What are some differences between the North Carolina wine industry and the New York wine industry?
Patti: The New York wine industry is better established (since Prohibition). Since Patti and her husband, Mark, moved to NC 17 years ago the number of wineries has grown from 30 to 200.
Mark: In all honesty, North Carolina can ripen a red grape better than most wineries in New York. Thanks to North Carolina's longer season growers can consistently ripen reds to maturity. The only region of New York that has a similar advantage is Long Island because it juts out into the Atlantic creating a slightly warmer climate.
"Most recently, wineries are facing challenges related to COVID-19"
Q3: What are some of the challenges grape growers and winery owners face?
Patti: Most recently wineries are facing challenges related to COVID-19. Wineries had to close their tasting rooms, cancel any events planned before the pandemic occurred, and find safe ways to continue to sell their products. Growers also have to deal with the North Carolina weather, frost can damage young flowers that begin to bloom in the early spring.
Q4: What are the things you most enjoy about the NC grape and wine industry?
Patti: The diversity of the wine industry from the owners to the wineries themselves. Owners in North Carolina come from many different backgrounds but always treat you with southern hospitality. Wineries across the state focus on producing many different kinds of wines and varieties of grapes. Even as you visit different wineries the style of the buildings and surrounding greenspaces vary from rustic farm to idyllic Italian style villas.
Mark: Working at a winery or vineyard gives you the opportunity to experience many different varieties of grapes and wines. You are also able to add other business opportunities when you run a winery, such as running restaurants on the vineyard and hosting events.
Q5: What is your thought process when helping a customer pick out a wine?
Mark: Tastings are always a great way to start when someone doesn't know what they like. Often the customer starts with asking what someone already drinks at home, ex. dry or sweet wines, then tries to pick a similar but elevated wine.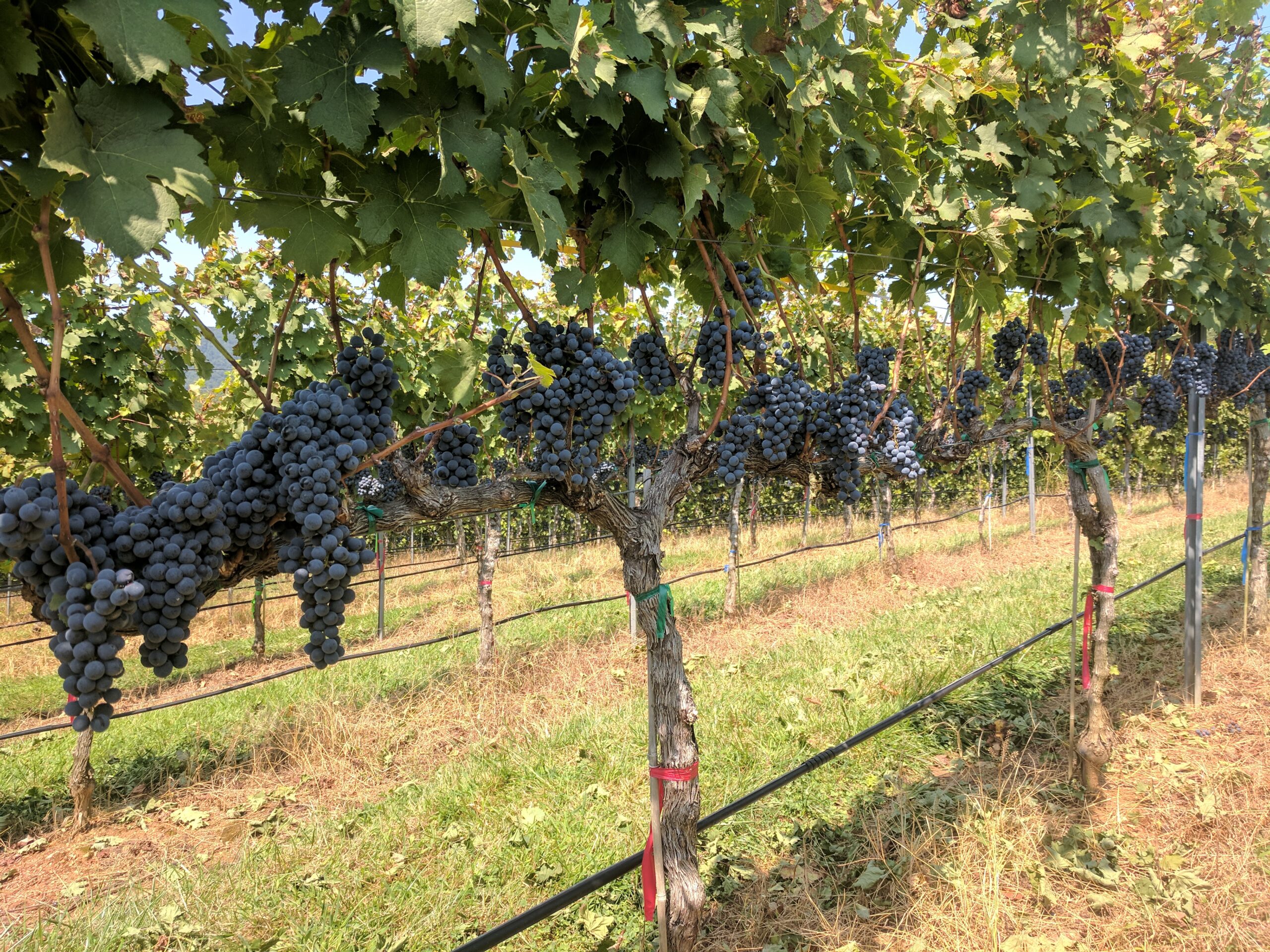 "Wine tastings are most popularly done by groups, especially as NC wine tourism becomes more popular"
Q6: What do you tell people as they try their wines (how to sip, smell, what to look for)?
Mark: Start by looking at the color of the wine, color comes from the barrel the wine was stored in. Then swirl the wine to smell an aroma. Then take a sip and hold the sip for a few seconds to feel the viscosity of the wine. After swallowing the sip, count the seconds that the taste lingers, think about what specific flavors are lingering. Wine tastings are most popularly done by groups, especially as NC wine tourism becomes more popular. So often tastings are more like a discussion of the flavors and smells.
Q7: Can you talk about how consumers at home should properly pair wines?
Mark: Traditionally the rule for pairing wine is whites with fish or poultry and reds with red meat. However this can vary. A very light red can still be paired with poultry or a salty cheese can be paired with a very robust red. I suggest to have fun and don't be afraid to experiment, and never drink just one wine at dinner. A great party trick can be to buy two bottles of the same wine, open one the night before and let it decant for 24 hours, then serve both at a party, guests will not believe they are the same wine. If a consumer is interested in pairings and tastings at home there are many North Carolina wineries that provide virtual tastings. Virtual tasting are kits that you can pick up at the winery containing several wines and follow along at home through videos. Contents of the kits vary between wineries. You can contact the NC Winegrowers Association if you want to know more about virtual wine tastings. 
Q8: What's one thing most people don't know about wine that you wish they knew?
Patti: The amount of work it takes for producers to get grapes into the bottle.
Mark: Not all NC wines are sweet. There is a large diversity of wines being produced in North Carolina and when you can you should visit wineries to try new wines.
In summary, North Carolina is following a trend of increased wine consumption in the US. However, the diversity of NC wines is an opportunity for consumers to experience a large variety of wines without the need to travel long distances. This is an opportunity, especially during COVID-19, when long-distance travel is a challenge. A road trip through the NC wine country could disclose new wonders right in your backyard.
This interview was conducted by Amanda Lay.