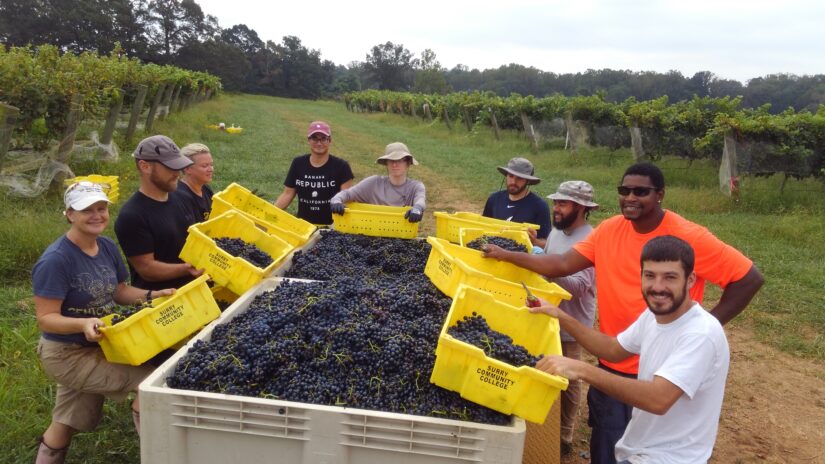 Student Highlights – The two-year viticulture and enology program of Surry Community College
Mark Hoffmann, Small Fruits Extension Specialist, Department of Horticultural Science, NC State University
Sarah Bowman, Viticulture Instructor, NC Viticulture and Enology Center, Surry Community College, Dobson NC
The Shelton-Badget North Carolina Center for Viticulture and Enology is located at Surry Community College, in the heart of the Yadkin Valley AVA. The center provides a two year viticulture and enology degree, four different certificate tracks, continuing education courses and the annual Southeastern United Grape and Wine Symposium. Surry Community College plays a critical role in the development of a local educated viticulture and enology work force, and is an essential institution for the wine and grape industry in the southeastern United States. The center has a commercially bonded winery, a 5-acre demonstration n education vineyard and hosts the North Carolina Wine Quality Alliance Program.
We have interviewed Sarah Bowman, the viticulture instructor at Surry Community College, and asked her about the goals, strategies and the future of North Carolina's largest Viticulture and Enology education center.
Q1: Can you let our readers know a little bit more about yourself? 
I grew up in Illinois, not far from Chicago, and moved to southern Illinois to attend Southern Illinois University where I studied journalism. I took a wine appreciation course as an elective and my academic path completely changed. I was hooked on horticulture. I completed my master's degree with a specialization in viticulture and am currently a Ph.D. candidate in agricultural science. I have been studying, practicing and educating others about viticulture for about 12 years now.  
Q2: You are the new viticulture instructor at Surry Community College. What are your aims with your program and where do you see the NC grape industry in several years from now?
I joined Surry Community College in January, 2018. I have a couple of North Carolina seasons under my belt now. The program is focused on teaching practical skills that are supported by science. I've tried to integrate research and the scientific method into many of the seated and hands-on exercises I guide my students through. I always find myself saying that there isn't a recipe for grape growing. My aim is to provide students with the foundational knowledge and skills they need to make practical and justified decisions that support their goals. To be successful in this industry you really need to think years into the future and be aware of the challenges ahead. I see the industry continuing to grow and really starting to hone in on the grape varieties that grow well here.       
"To be successful in this industry you really need to think years into the future and be aware of the challenges ahead."
Q3: Surry Community College has a viticulture and enology track. How many students graduated in the last few years in both programs?
We offer an associate's degree and now four certificate tracks! Students can focus on viticulture, enology, marketing, and tasting room management. Our program is small compared to others which truly benefits the students and our facilities are state-of-the-art. Construction on our new viticulture education building is currently taking place and we hope to have the facility open in 2021. With several more classes being offered both seated and online we are expecting to have a large incoming class. Combined between degree and certificates we typically graduate about 8 students per academic year.   
Q4: What do you think are the biggest challenges for the NC Wine industry, and what are the large opportunities?
The climate is a major challenge in NC. But with challenge comes innovation. I think that many growers and winemakers are discovering the grapes that grow best here and the wine styles that match. I see major opportunities to develop rosé and sparkling wine programs. Communicating a plan for the style of wine to be produced is especially helpful for the grower as they can adapt their management so it suits the wine style.  
Q5: Where do your students come from? And where do they usually find employment?
Many of our students are from the southeast and a majority are from North Carolina. Some are vineyard and winery owners or interested in becoming owners, while others are just beginning their careers in the industry. It's not uncommon that our students relocate to the Yadkin Valley to attend the program. Most students work locally while they are in the program. Typically, they stick around the southeast for positions as vineyard managers and assistant winemakers. Many of our students have quickly worked their way up to head winemaker positions or have developed their own businesses.   
Q6: What is it that has drawn you to viticulture?
I love the outdoors and have a much greater appreciation for the complexities of nature after spending endless hours working in vineyard. Grapes have a lot of personality too. Each variety behaves differently and responds differently to its environment and management. There are endless combinations and it's very satisfying to find a variety that matches its location and to develop a plan for the specific cultural practices it needs to thrive.  
"Spend a little extra time appreciating the risks that grape growers take on and the hours of hard labor that
were
necessary to produce the end product."
Q7: If there is one thing you would wish more people would know about NC viticulture, what would that be?
The easy answer here is that we are making great wine from grapes grown in North Carolina. But I would like to encourage people who live in or visit NC wine country to find a wine they like, whether it is vinifera, muscadine, hybrid, dry, sweet, still or sparkling; and spend a little extra time appreciating the risks that grape growers take on and the hours of hard labor that were necessary to produce the end product. Grapes are not a crop that you plant in the ground and just come back to when the fruit is ripe. It's at least several years before you have fruit to harvest and that's generally only if Mother Nature is cooperative. A majority of grape growers in the state are small or medium sized and want nothing more than to make a living and we can't do that without the support of our consumers.    
In summary, Surry Community College has become an essential part of the NC Grape and Wine industry, and the North Carolina Viticulture and Enology center provides a unique opportunity for students to gain two years of hands-on experience in viticulture and enology. Sarah Bowman has joined the college as the viticulture instructor in 2018, and brings broad scientific knowledge, research-based hands-on management approaches and a deep passion for grapes to NC. Without an educated work-force, the NC grape and wine industry would not be able to grow; and Surry Community College plays a system-critical role in providing high quality education in viticulture and enology specific for the Southeast.
The interview was conducted by Mark Hoffmann